A playground
where we play with stories.
As a creative endeavour from Mun Yeong, Shermene, and Chya Chyi,
Bang Bang Zine centres on the art of storytelling with illustration in the medium of
independent zine and print publication.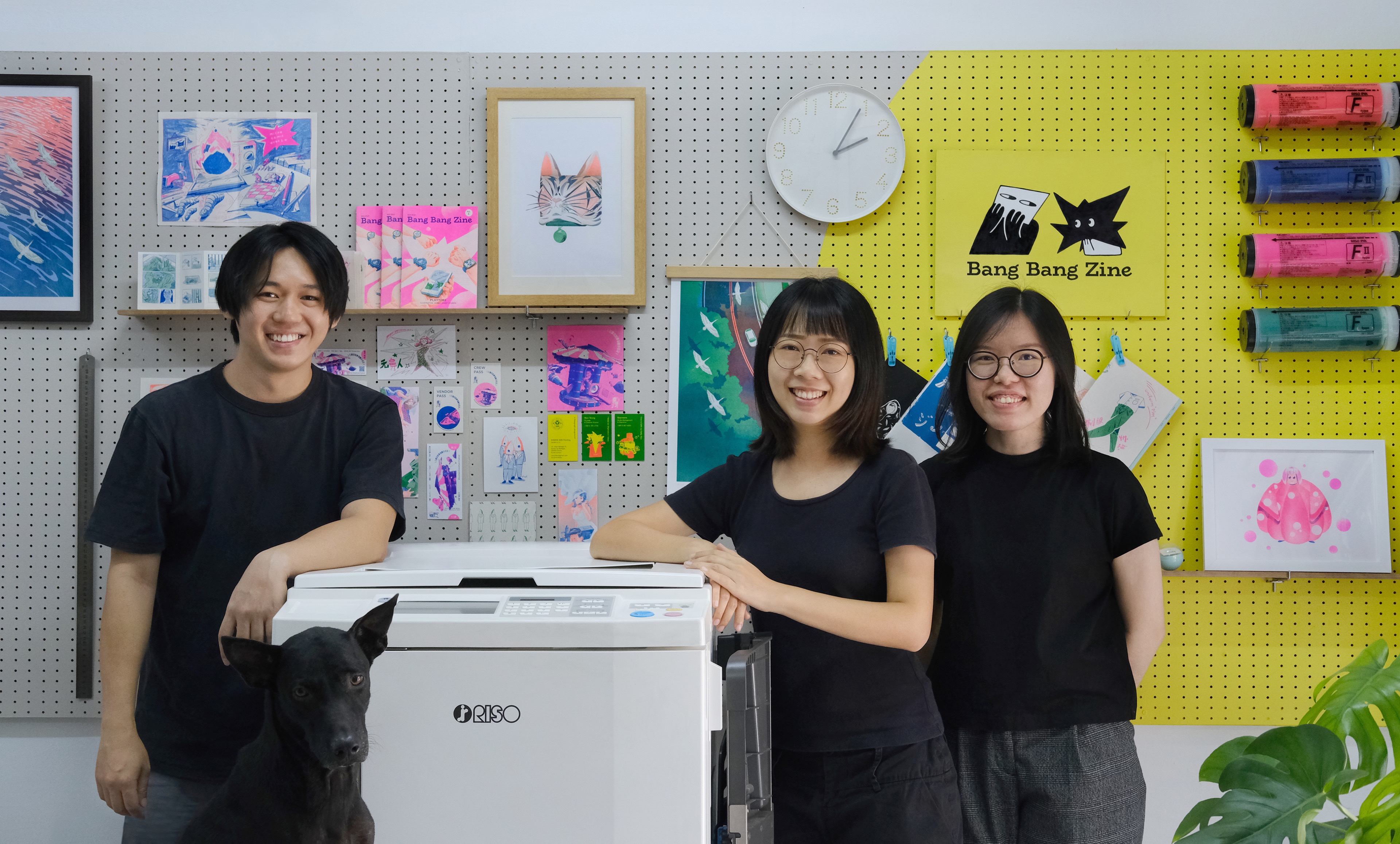 Founded in 2017, our zine initiative formed together with a bunch of friends
is inspired by the local-tea-drinking culture. Untried ideas have their voices
heard through the making of zines. It is fascinating when we see works come
to fruition from a tiny story to finished publishing, but not limited to this medium.

To us, stories always matter. The intriguing name of "Bang Bang Zine" is
extended from the term that we love how different ideas bang with different sparks.
In BBZ, play is our serious work in creating new possibilities. We hope to remind
people to value the need for play no matter in good times or adversity.
---
Celebrate the charm of Risograph.
Under the brand Bang Bang Zine, we're running a risograph printing studio
called INKINK DER (IID) based in the neighbourhood of Cheras, Kuala Lumpur.
Risograph (Riso for short) is an eco-friendly print process that has a handmade
aesthetic look of traditional print but with the speed and efficiency of a modern
printer. We fell in love with its imperfect and vibrant charm. Its ideal balance between
printing budget and quality makes it a welcome alternative for creatives, to print
with less consumption but impressed.

In Aug 2019, we brought in our first risograph machine, and since then it has
been a brilliant tool for us to develop printed works. We currently have five
different colours: Fluorescent Orange, Blue, Fluorescent Pink, Green and Black.
With risograph, we want to encourage people to create the aesthetic of their
life using this medium from levels of art, business and education.

For those who are interested in risograph, we suggest you come over to our
studio (with an appointment) or have a video call to have a brief
understanding before printing.
---
The present and the future.
The desire of bringing you more beautiful zine varieties has never faded from the
beginning. We see ourselves growing to be a multifaceted brand: not just a zine
publisher, but also a zine store, a risograph press, an illustration company, a curated
gallery, and a playground for you to embrace stories and express with creativity.
- Wherever we are, there's our playground. -